Slovakia has a European unique. Smoke-free HOPIN taxis. Dozens of specially marked IQOS FRIENDLY taxis will start plying the streets of the capital in June. These allow adult customers to use smoke-free alternatives to conventional cigarettes while driving. When ordering a taxi on the HOPIN app, the adult customer chooses whether they want to take a classic taxi or try a ride in a special smoke-free taxi.
All information you can finde on hopintaxi.com/iqos-friendly (SK) or continue reading this blog.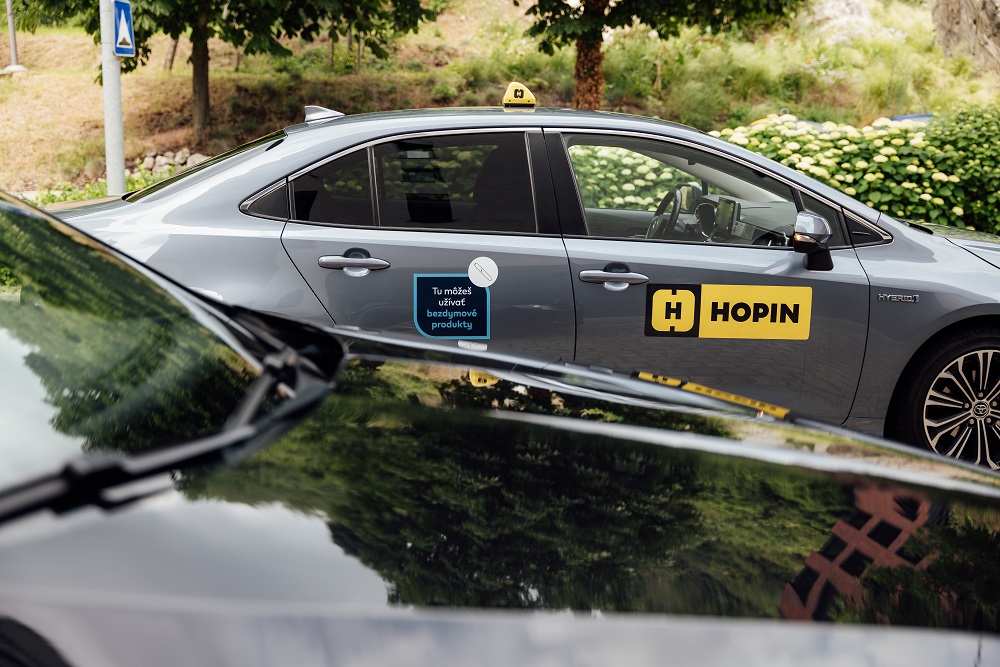 The novelty is being piloted in Bratislava by Philip Morris and its IQOS brand in cooperation with HOPIN, which signed a Memorandum of Cooperation these days. According to both of them, the new service will help to build a smoke-free Slovakia and at the same time, in the form of a new benefit, will reward adult users of smoke-free alternatives.
Europe's first smoke-free taxi service thanks to innovation
"Innovation and alternative technologies have been key for us for a long time, which is why we are not afraid of interesting services that improve the user experience of our customers," says Petr Šedivec, CEO of Philip Morris Slovakia, which has been investing in research and development of better, smoke-free solutions for more than 20 years. These are designed to offer adult smokers who can't or don't want to quit less risky alternatives to conventional cigarettes. And in addition, innovative services such as smoke-free taxis. "We are delighted that Bratislava has become the first European capital to launch this unique service. Specially marked and modified IQOS FRIENDLY taxis bring benefits to those who choose a less risky alternative and take more care of their health and their surroundings," says P. Šedivec, explaining the reasons for the cooperation.
New additional HOPIN service
In the initial, pilot phase over the summer, several dozen smoke-free taxis will operate on the streets of the capital. "IQOS FRIENDLY taxis are a new complementary alternative to other HOPIN services, which customers can voluntarily choose. During the summer months, we will be setting up and testing this new service so that from autumn we can switch to a model that our customers will be satisfied with and will be able to use in other cities in Slovakia where we operate," says Richard Lörincz, CEO of HOPIN.
This novelty can be used not only by Bratislava residents, but also by domestic and foreign visitors and tourists who download the HOPIN app. Adult customers can choose to order IQOS FRIENDLY taxis directly in the app, which are also specially marked with an icon. At the same time, each IQOS FRIENDLY taxi is clearly marked both on the car door and in the interior, and all taxis are equipped with boxes for storing used cartridges, chargers for IQOS devices, and an original fragrance to make the journey more pleasant for passengers. In case a customer orders such a taxi by mistake, he will be able to cancel it without any problems and order another one.
Who are the taxis for?
Approximately one-fifth of the adult population in Slovakia smokes , of which more than 260 thousand adults have already switched to the smoke-free alternative IQOS .
Smokeless alternatives are less risky than conventional cigarettes because they produce up to 95% less harmful substances compared to conventional cigarettes, while eliminating passive smoking and having no negative impact on air quality in enclosed spaces such as taxis. IQOS FRIENDLY smokeless taxis are for adult smokeless customers only.  They will thus be able to book a taxi where smoke-free alternatives can be enjoyed while driving, when smoking conventional cigarettes is prohibited.
Smoke-free better
New substitutes for conventional cigarettes – smokeless alternatives, i.e. e-cigarettes and heated tobacco – are aimed at reducing health risks for adult smokers. Thanks to these innovations and modern technologies, the main cause of the health problems caused by smoking – the combustion process and the subsequent inhalation of smoke – is being eliminated.
The fundamental difference between a cigarette and a smokeless tobacco product is that, while the tobacco in a cigarette burns and produces smoke containing around 6 000 harmful substances, the tobacco in a smokeless tobacco product is only heated and instead of smoke it produces an aerosol which contains on average 95 % less harmful substances than cigarette smoke and is composed mainly of water vapour, nicotine and glycerine. The liquid particles evaporate in less than one minute and therefore do not have a negative impact on indoor air and are not a source of passive smoking. Of course, all nicotine-containing products, including smoke-free, are not risk-free as nicotine is an addictive substance, but they are a better choice for adult smokers if they wish to continue smoking.
HOPIN app is available for all popular smartphone platforms in app stores – App Store, Google Play aj Huawei AppGallery.
Zdieľať na facebooku