IQOS FRIENDLY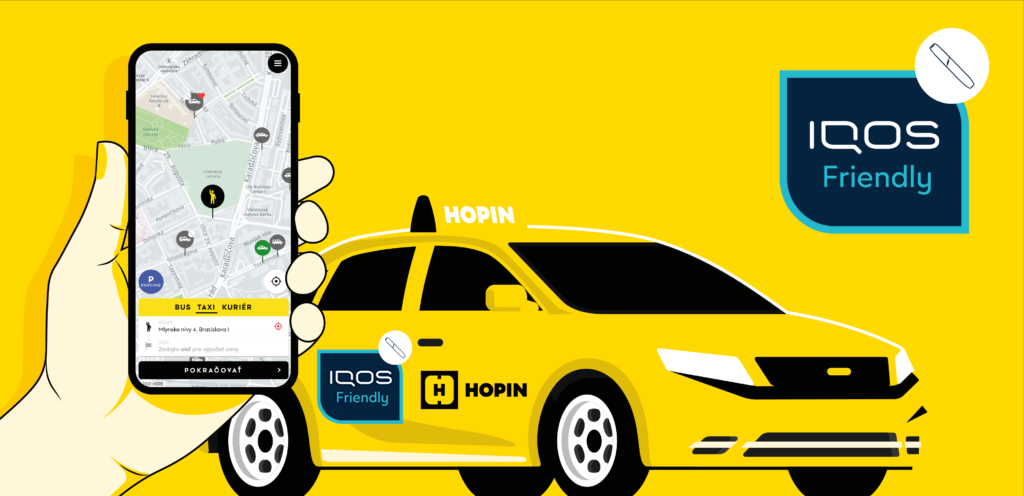 Slovakia has introduced a European phenomenon.
Smoke-free HOPIN taxis.
Dozens of specially marked IQOS FRIENDLY taxis
hit the streets of the capital in June.
These allow adult clients to enjoy smokeless
alternatives to conventional cigarettes during their journey.
Try an IQOS FRIENDLY taxi yourself
You can use smoke-free products in IQOS FRIENDLY taxis.
In the taxis you can charge your IQOS device.
IQOS FRIENDLY taxis are equipped with IQOS heets-trays.
IQOS FRIENDLY taxis are regularly ventilated and use special perfume.
The price list includes Economy, Premium and ECO services.
There are dozens of vehicles in the IQOS FRIENDLY taxi fleet.
* IQOS FRIENDLY taxi service
was created in cooperation with the IQOS brand.


How to book an IQOS FRIENDLY taxi?
IQOS FRIENDLY taxis are easy to order.
Just like any other HOPIN taxi. After entering
the starting and destination addresses, you can choose IQOS FRIENDLY – Economy
or IQOS FRIENDLY – Premium. You will see the price for the journey
in advance, of course. Then all you have to do is confirm your order.